The future of Farming and Agriculture
The future of farming and agriculture industries will be dictated by the prediction that world's population is expected to increase by 2 billion persons in the next 30 years, from 7.7 billion currently to 9.7 billion in 2050 and to 11 billion in 2100 according to the United Nations report The 2019 Revision of World Population Prospects. As a result we'll need 70% more food in 2050 to support such a large number of habitats.

To be ready for this, farmers and agricultural companies are integrating with Internet of Things (IoT) Solutions, Robotics and Artificial Intelligence (AI) for analytics, profitability and greater production capabilities.

Most researchers named this approach Agriculture 4.0 or Data Driven Agriculture.
Let's take a look at some examples of using IoT in agriculture:
Soil moisture sensors can help farmers monitor and analyze how to use water more effective;
Detailed topography maps can be provided based on data from soil acidity and temperature sensors;
Time to water crops can be scheduled via smart irrigation systems;
Different sensors that monitor animal health in real time;
Feed management and distribution solutions that allow to decrease costs and raise effectiveness;
Smartphones can be used for remote monitoring of their equipment, crops, and livestock, as well as obtain stats on their livestock feeding and produce.
It's obvious that usage and domains where to integrate IoT devices will grow in the next years. According to Business Insider more than 12 millions of smart sensors will be installed by 2023. One more interesting fact – an average farm will generate more than half million points of data per day – to help farmers to analyze, control, manage their business and increase profits.
All of the potential benefits of these IoT applications in agriculture, it's obvious that farmers are increasingly moving to usage of agricultural drones. That's why drones are highly demanded in precision agriculture.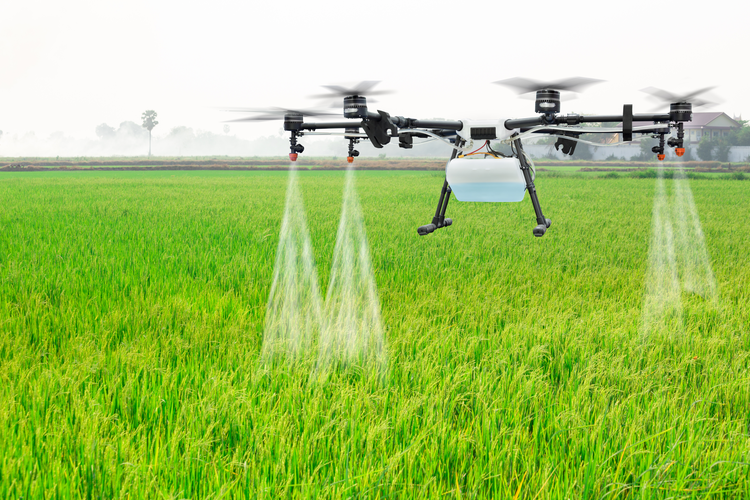 Definitely, another problem that farmers will face while integrating smart farming solutions is staff education. There are a lot of new technologies and processes that need to be learned – from different device installations to web, mobile and PC software. It is very important to cooperate with right vendor or smart farming solutions developer.

What about the future of agriculture?
According to recent research "From Smart Farming towards Agriculture 5.0: A Review on Crop Data Management" the next phase of innovative agriculture will be Agriculture 5.0 – the era of Robotics and Artificial Intelligence (AI).
The main idea is: farmers will follow precision agriculture and smart farming technologies but using equipment that involves unmanned operations. It will contain autonomous decision support systems as well. Traditionally, farms need to hire a lot of workers, in most cases seasonally, to harvest crops and keep on farms. But, unfortunately, all modern societies are moved away from agrarian life and live in cities.


One of the Forbes research shows that modern robots can augment the human workforce and can work more efficiently and faster than humans. Obviously, there are still a lot of actions that can't be done by robots. Almost all researchers reported that it is a question of time to move from human workforce to robotics.

Another side of integrating robotics and AI is cost – like most innovations these technologies are too expensive especially for small and medium farmers.

More than 800 millions dollars were raised by agricultural tech startups in the last five years. And here at CitrusDev, we are also working on the front of agri revolution spending time and resources for R&D. We have proven experience in the development of smart farming solutions.

If you have any ideas or questions about smart farming solutions – feel free to contact us in any way that is suitable for you.